The 14th IERE General Meeting and The IERE - EPRI North American Forum
The 14th IERE General Meeting and
The IERE - EPRI North American Forum
The Integrated Grid – Realizing the Full Value of Central and Distributed Energy Resources
18 - 21, November 2014. EPRI Charlotte Facilities, Charlotte, North Carolina, USA
Organized by EPRI and IERE
Poster Session
The Poster Session was organized under the framework of IERE's "Young Academy" activity.
PS-1

Reducing Grid Integration Risks and Demonstrating Smart Inverter Technologies through Advanced, Full-Scale Testing with the Duke Energy EGRID at Clemson University

Dr. J. Curtiss Fox, Director of Operations, Duke Energy eGRID Center, Clemson University Restoration Institute, SC, USA, Senior Vice President R&D, EPRI, USA

» Abstract
» Presen.
PS-2

Smart Measurement System for Pole Mounted Transformers

Mr. Omar Méndez Zamora, Applied Research Manager, Prolec GE, Mexico

» Abstract
» Presen.
The 14th IERE General Meeting
Wednesday Nov. 19, 2014

Plenary Session
Session A: "Innovations in Wholesale Markets and Rate Design"
Session B: "Strategies for Integrating Distributed Energy Resources and their Role in Tomorrow's Energy Landscape with Grid Planning and Operation"
IERE Award Ceremony
Business Session
Special Session: T&D Asset Management
IERE-EPRI North American Forum
Thursday Nov. 20, 2014

Technical Session

Session C: "Deployment of Advanced Distribution and Reliability Technologies"
Session D: "Distributed Resources Technologies"

Closing Remarks
Technical Tour
(Optional)
Friday Nov. 21, 2014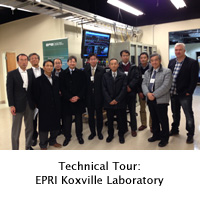 EPRI Knoxville Laboratory, Knoxville, Tennessee, USA