Collaboration Map (Search system of collaboration partner)
Collaboration Map
(Search system of collaboration partner)
"Collaboration Map" is search system of collaboration partner on the website. It will be able to provide following function.
1. Which company has an interest in each field? (see Fig.1)
2. What are the major fields of each company? (see Fig.2)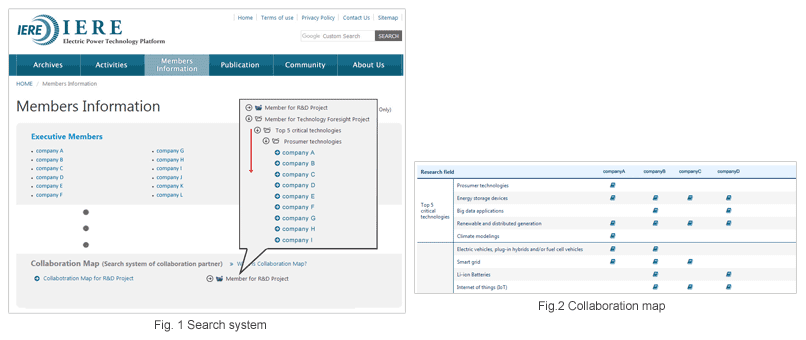 If you join IERE member, you could see key technologies in General Research & Development of each company.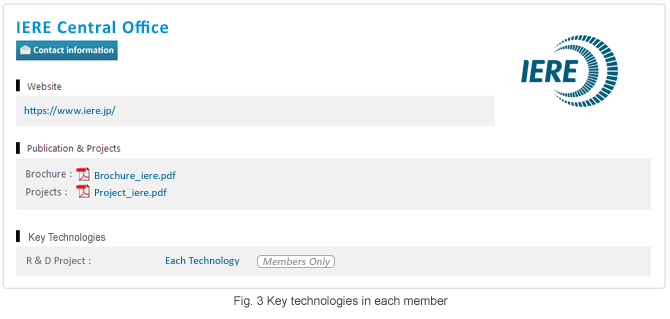 Key technologies in general Research & Development (Accessible to only IERE members)
Power Generation
Power Transmission
Power Distribution
Environment
Information Communication Technology
Nuclear Power
Thermal Power
Hydro Power
Fuel
Civil Engineering Construction
Economics
Energy Utilization

Energy Storage
Energy Conservation
Energy Conversion
Renewable Energy
Distributed Generation/Smart Grid
Gas Transport
Material
Biology
Climate/Weather
IT
Big Data
Standardization/Normalization
usiness Solutions (Services, Consultant, etc.)

New Businesses
Security
Intellectual Property
Management/Operation of Organization
Asset Management
Facility Operation & Maintenance
Quality Control
Safety
Technology Development
Introduction of New Technology